PEPPA THE PIG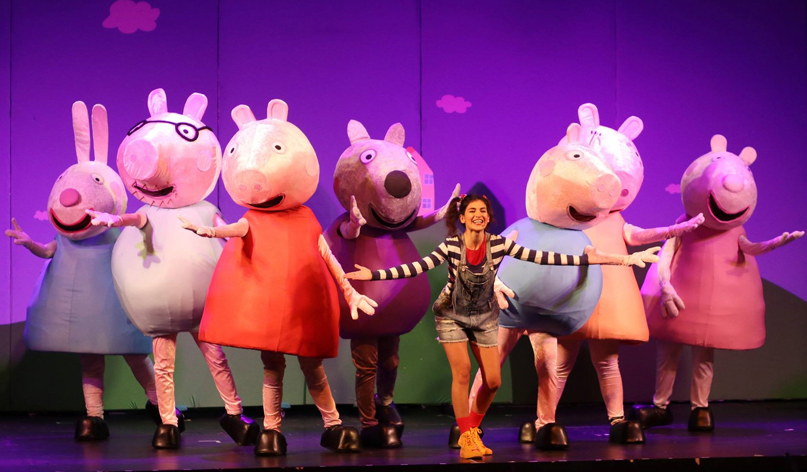 PEPPA THE PIG
The Official Theatrical Performance
"Peppa's Dream"
PEPPA THE PIG the official theatrical performance that is presented in United Kingdom and the U.S.A. after its great success in Athens and Thessaloniki "travels" throughout Greece.
Based on Entertainment One's (eOne) award-winning series of the same name Peppa Pig.
Awards:
BAFTA Children's Award 2005 Best Pre-School Animation
AIAFF Best TV Production 2005,
British Animation Award Nominated for best pre-school
BE READY FOR SOME THEATRE
ALL THE INFO:
INFORMATION ABOUT THE SHOW
Peppa the Pig, Daddy Pig, Mummy Pig, George, Madame Gazelle, Suzy Sheep and Rebecca Rabbit are waiting for you to experience "Peppa's Dream" with them, a modern fairy tale with allthe children's favorite heroes.
Peppa wakes up having had a wonderful dream. A beautiful day starts with her friends. Playing, singing, dancing, but her strong desire to live her dream, leads them to many adventures. At the open-air Celebration of Joy organized by Madame Gazelle, the atmosphere enchants all the children, but Peppa still feels disappointment for her unfulfilled dream.
Can a sudden storm bring joy and make life wonderful like a dream?
Through stories of children's everyday life, the beloved characters, along with the young spectators, will play, laugh, sing, reflect and… they will chase their dreams!
A performance with an educational and entertaining character showing different heroes that coexist harmoniously and give meaning the concept of friendship and the value of family.
With costumes on a surreal scale, impressive lighting and sets, interactive play and a soundtrack specially orchestrated for its needs, the show introduces children to the magical atmosphere of the theater.
A spectacle that will make every child love the theater and its world from the first moment and will remain engraved in his memory.
Don't miss it
CINEMA • THEATER • EVENTS
EXTRA!
See the highlights of the show!